Briquette Press Machine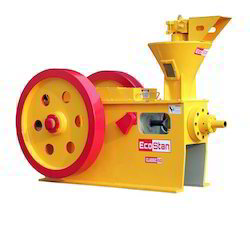 Briquette Press Machine
Price And Quantity
Product Specifications
Electricity

Semi Automatic
Product Description
Briquette Press Machine:

Briquette Machine is used to make briquette out of any agricultural and forest waste. First of all, briquetting means reducing the size of bulk density raw material into compact form, which makes it easy for transportation, burning and increase its calorific values as well. EcoStan Briquetting Machine produces quality briquettes without any need of binder or chemical. It compact the raw material with the help of high pressure mechanical punch. However, during the contraction of the material, temperature rise adequately to make the raw material emancipate the numerous adhesives that will abetment in protecting the bits together in the compressed shape. Likewise, the technology of this plant is known binder less technology. Moreover, since last 22 years we have done considerable R&D into briquetting mechanization for making best Quality Briquette Plant. Our products are manufactured under the direction of experienced engineers with the help of hi-tech Japanese Machines. Briquetting Machines are available in the magnitude parameter of 40mm to 100mm to suit particular requirement of customer(with the production of 325 KG/Hr to 2500 KG/Hr) *Depends on various feedstock. Also, we can fabricate large automatic online production plant.

*Note: Acceptable moisture in raw material for briquetting should not be more than 12%.

Furthermore, other vernacular names of Briquetting Machine are Briquette Press, Mud Press, Screw Briquetting Machine, Jumbo Machine, Saw Dust Machine, Rice Husk Briquette Machine, Gitti Machine, Gulla Machine, Tuda Machine and list goes on. Primarily we call them PRIME 40, CLASSIC 60, STANDARD 70, BULL 80, SUPREME 90, EVEREST 100.
Product details
| | |
| --- | --- |
| Aux. Cylinder Press | 100 Kn |
| Automatic Grade | Automatic |
| Production Capacity | 1000-1500 kg/hr |
| Raw Material Processed | Saw Dust |
| Voltage | 220V/380V/415V |
| Power | 30 Kw |
Briquetting Press Machine

Model No.

Production

Power Requirements

ECOSTAN 100 HD


2,500 KG/H

116 HP

ECOSTAN 100

2,500 KG/HR

91 HP

ECOSTAN 90

2,000 KG/HR

88.5


ECOSTAN 70

1,300 KG/H

59 HP

ECOSTAN 60

1,000 KG/H

47 HP

ECOSTAN 40

250 KG/H

23 HP
Trade Information
Africa, Middle East, Eastern Europe, South America, Asia