Rotary Drum Dryer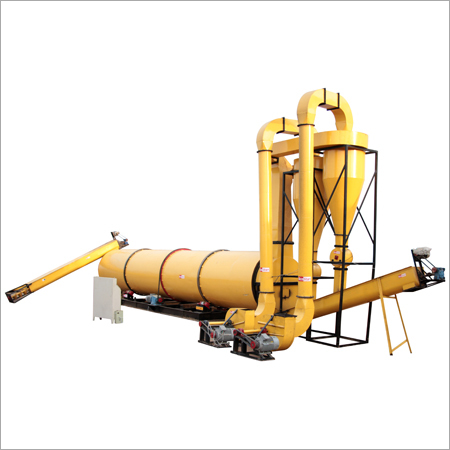 Rotary Drum Dryer
Price And Quantity
Product Specifications
Product Description
Rotary Drum Dryer
Rotary Drum Dryer is designed to dry the wet content of different Raw Materials which contain moisture up-to 50% or more than that. The dryer is in the shape of a large rotating cylindrical tube. Furthermore, the discharge end is lower than the material feed end in order to convey the material through the dryer under gravity. Moreover, its Vernacular names are: rotary kiln, tube dryer, pipe dryer, drum dryer, saw dust dryer, spin dryer and so on.

Various types of raw material can be dried which contain moisture, such as Saw Dust, Bagasse, Coffee Beans, Press Mud, Wood Chips, Peddy Straw, Groundnut Shells and Almonds Shells etc. Rotary Dryers are widely used for reducing moisture from any type of Agro Waste, Forest Waste, Chemicals, Filter Cakes, Sewage Sludge, Drying Sands, Limestone, Stones etc.
Rotary Drum Dryer is used to dry the moisture content of raw material. It is used in case the material has moisture up to 50% or more. This dryer is less sensitive to the particle size of the raw material, so makes this dryer one of the best for catering any time of material
Ecostan provides you with the different models of Rotary Drum Dryer.

| | | |
| --- | --- | --- |
| Model No. | Production | Power Requirements |
| RDD 50 | 5,000 KG/H | 74 HP |
| RDD 30 | 3,000 KG/H | 69 HP |
| RDD 20 | 2,000 KG/H | 42 HP |
Product details
| | |
| --- | --- |
| Automatic Grade | Automatic, Semi-Automatic, Manual |
| Material | Made from Best Quality Mild Steel |
| Brand | ECOSTAN |
| Model Name/Number | ECOSTAN PSS |